Maintaining Long Term Relationship with Customers
Posted by Shaveta on June 5, 2017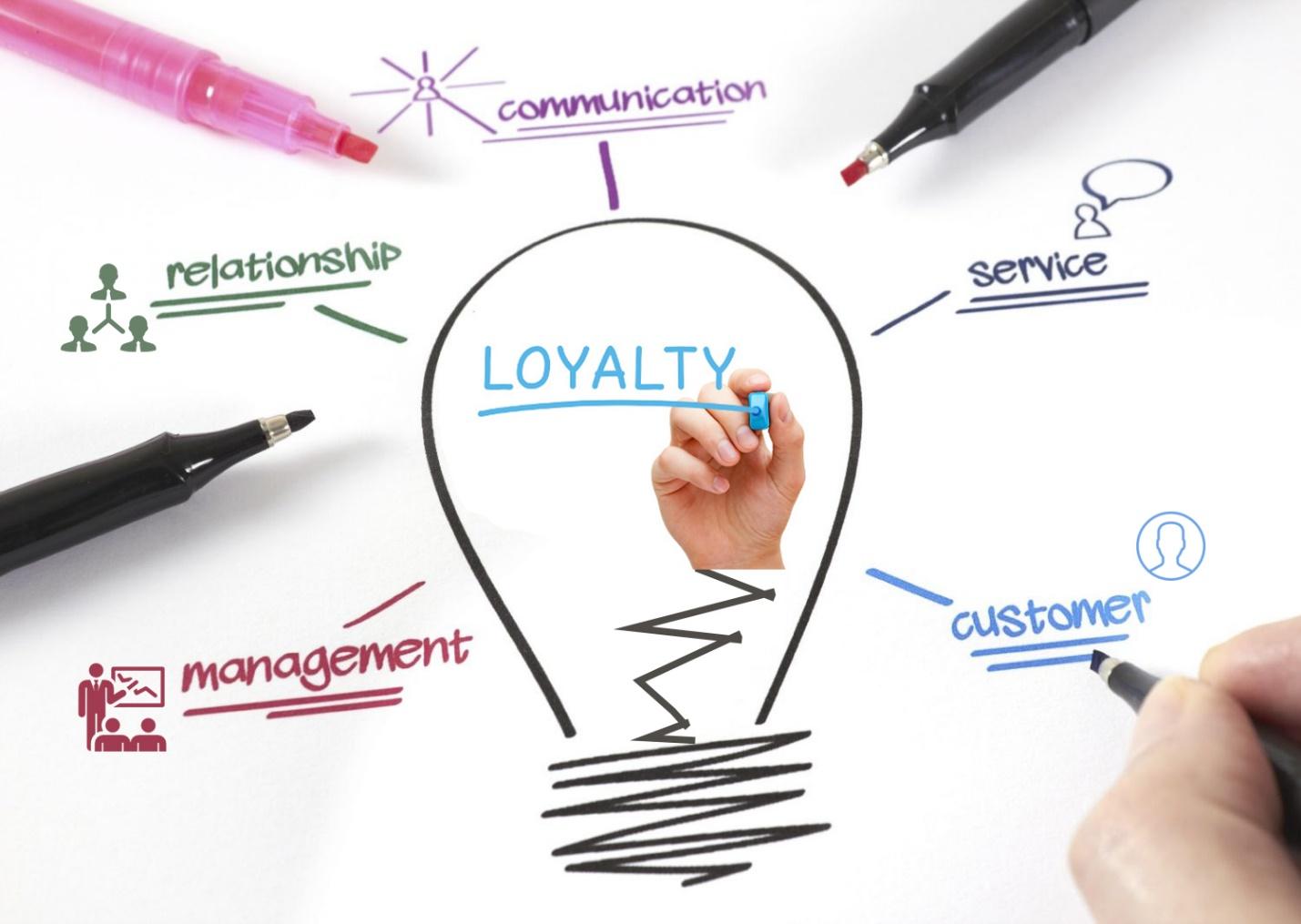 A business is as good as the clients it serves, and no business gets far when it starts losing its existing clients. The key to any businesss success is building relationships that go beyond one-time projects and provide value to these clients on a reliable and, ongoing basis.  Most organizations are inclined to pay more attention to lead generation and customer acquisition, however, they miss the fact that unless their existing customers are kept motivated and well serviced, then they will be more likely to look for an alternative.
Here are some key benefits of having long term association with clients:
1) Regular Revenue: Clients guarantee to provide organizations with repeat business over along period of time. It is important to spend time ensuring these customers are satisfied with the productservicethat are offered.
2) Brand: When Clients are happy with an organizations serviceproduct they are always morethan willing to promote the brand, and refer to others. 
3) Feedback: Customers are often willing to provide feedback which can often be turned into atestimonial andor case study for the organization. This will strengthen position and will create a positive brandreputation.
4) Competitive edge: If your customer base is happy your positive reputation will stand outfrom the rest and provide an edge while closing deals.
A happy customer is the best business strategy of all
CodeFire's core value lies on Technical excellence, Value commitment and Customer delight, these values eventually help us in maintaining long term relationship with our esteemed customers. As mentioned above long-term association not only helps you financially but also in branding and competitive edge, we have seen these factors really work. Completing 7 successful years in business and growing organically is testimonial for the same. 
 I can share long list of customers and share lots of experience we have had with them but would focus on Startup/Entrepreneurs with whom we started from inceptions stage of project i.e. from ideation stage and ended up as their long-term technology partners.
 Pblishing: This client ours is a young Graduate from Cornell University and had business background of publishing house. He knew that there are many budding writers in India who are looking for avenues to get published, and being from publishing domain himself, he was looking for creative writers with content that people would love to read. With this problem description, he came up with a brilliant and innovative solution to create a platform where authors can read/write book and have their e-book/book published.  
He came to us with an idea, however, before jumping to close the deal, it was important for us to understand client's vision and expectation. Once we had those details, we started with gathering complete information about client's vision and did analysis on how complete application would work and what technology would be best suited etc. Alongside, client carried out all the due diligence on his side before he agreed to work with us. We really liked that the client went to great lengths to verify our credentials, since that reflected that he was extremely serious about success of his venture and he does not believe in half-assed work. As client was not too technical, he relied on our services and expertise and we didn't disappoint him. Once project started, we ensured 
We divided complete project into small sprints and with definite the timelines.
Weekly delivery: Based on the plan, modules were delivered on weekly basis which were completely tested.
Regular Feedback/Communication
Timely completion
Training document
Our job was not done here, real test and concept validation started when actual users started using application (CodeFire being a company that focuses on development of starups, we get super excited when actual users start using application). As this site catered to Indian authors and this concept was new we were prepared for the challenges. Having worked with huge number of startups, one thing that we can bet our lives on is, once the application goes live and actual users start interacting with it, changes are bound to come. So, we were prepared for the same and the team worked hard and made smooth transition in terms of changes and solved queries in best possible way. This period was turning point, we not only developed web application but went on to make Mobile Native apps and continuously providing maintenance support. A happy client, as he was, he referred us to people his network and we all know a solid referral is much better than just a hot lead.
The relation has been developing and growing ever since and we are happy to see a seed that we planted is growing at a rapid pace. THANK YOU PBLISHING.COM 
Story of another startup where we associated at the ideation stage.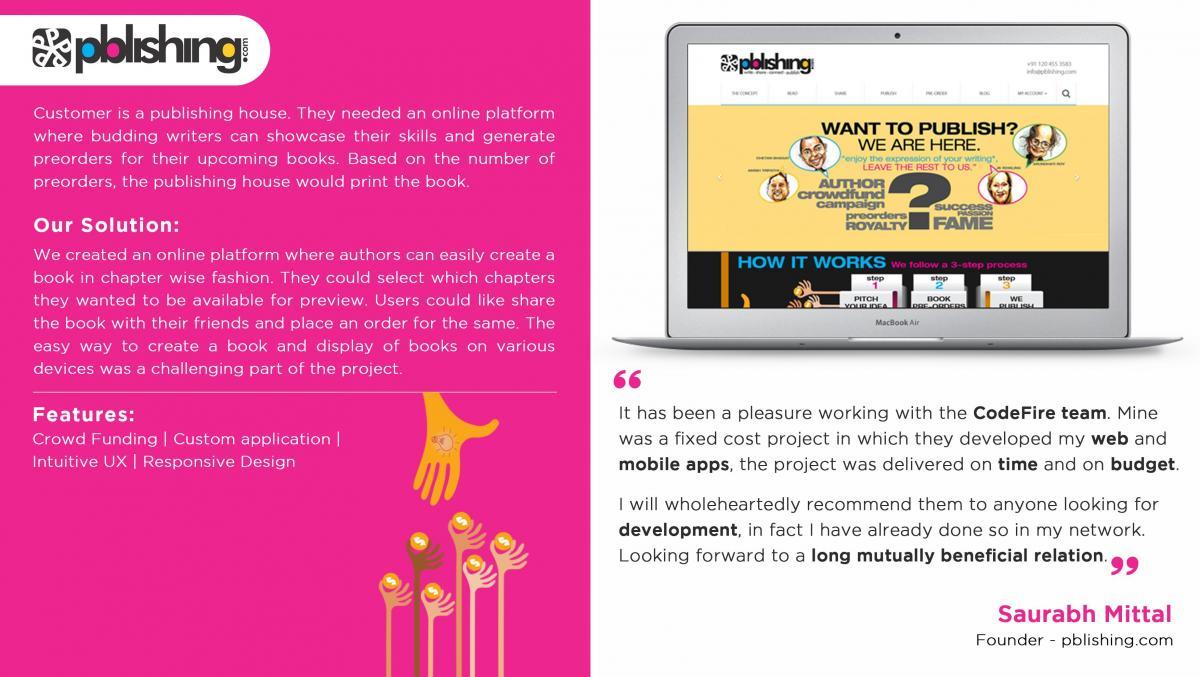 StoreMore: StoreMore was new concept for Indian market, it catered to the need of people who are looking for extra storage space to store items that they do not use regularly. Though it was simple in terms of understanding, however, since it was an innovative offering with no ready reference, implementation was challenging. We spent a lot of time with the founders trying to understand their vision and expectation from the web application and alongside ideating with them on the UI / UX. After multiple rounds of meetings and discussions, we did complete analysis on our end, defined the complete scope, features and listed down the challenges and our approach.  On the client's side, we had been recommended to them by someone in their trust circle, and they were impressed with initial rounds of discussions which helped us close the deal.
CodeFire was excited to work on this new domain and challenging features such as warehouse management, barcode integration, managing space. 
As if working on a new and challenging domain was not enough, we were also pressed for time as client was already delayed from their planned schedule even before we got engaged. 
We followed D6 methodology i.e.
Divided complete project into small sprints.
Each sprint was reviewed, designed, developed and tested. Once client approved only then we moved to next sprint if not then we were back to last sprint and make changes as per the feedback.
Since, this was new concept we and client had to ensure that we develop our application keeping end customer in focus.
Once application was live we ensured that we cater to customer's request and simultaneously keep on enhancing the new functionality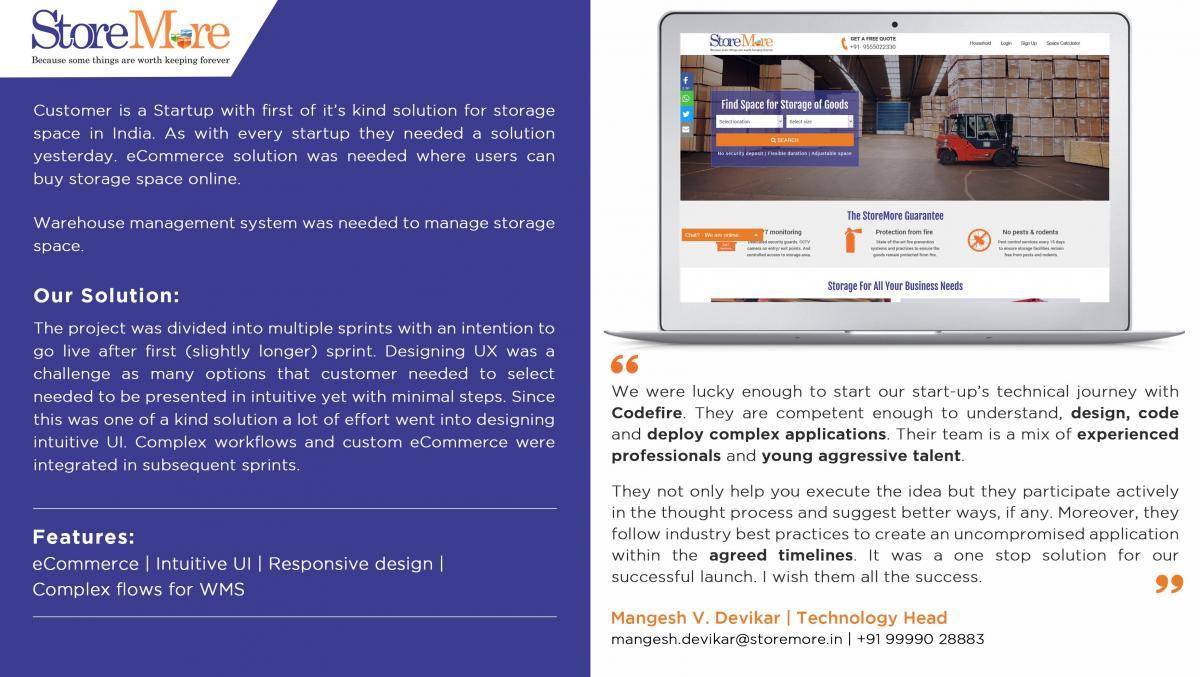 We continued to provide maintenance support for one year and once project was stable and completed, we handed over the project to our client. Training was provided to staff members, so that they can easily handle technical aspect and we continue to work as their Technical Advisor. Thank you StoreMore team for your continuous support.
It may look like a lot of work, but a delighted customer is much better and easier way to expand than having an army of sales people working solely on new leads.