Extending "Coach Mitra" facility with Train Service Request
Posted by admin on June 29, 2017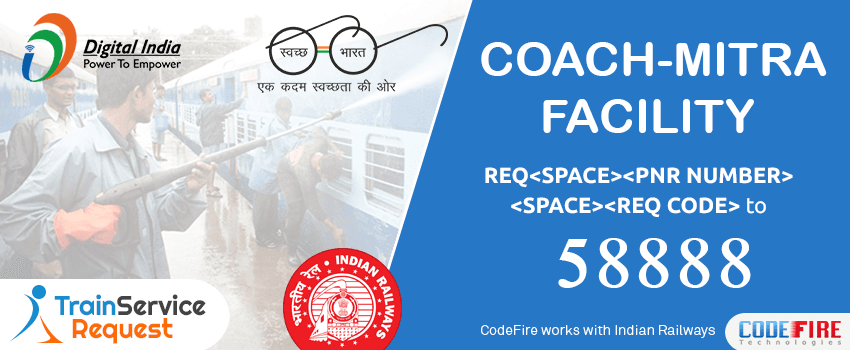 (CodeFire works with Indian Railways to automate onboard services)
Aligning to the vision of Hon'ble Finance Minister (as stated during his budget-2017) to provide "Coach-Mitra" (The one-man contact, called the Escorting Staff, will be responsible for everything from distribution of linen, cleaning the toilets, repairs, functioning of air-conditioners to other petty problems), we @CodeFire have extended the Coach Mitra services on our platform www.trainservicerequest.com for the passengers travelling in Indian Railways.
The concept of COACH-MITRA is to provide single window assistance to the train passengers in case of any coach maintenance related assistance. The assistance required could be for cleanliness, Linen, Disinfection and rodent, Watering, Train lighting and AC, Electrical & mechanical petty repairs.
We have extended from the old simple capability of just cleaning request option to Watering of Coaches, Disinfection/Pest Control, Linen/Bed Roll, Train Lighting/AC and Petty Repairs. Each service is given an individual code in the system for sending SMS/Web request/mobile app request to avail the service. Following are the services with associated code.
- Cleaning (C)
- Watering of Coaches (W)
- Disinfection/Pest Control (P)
- Linen/Bed Roll (B)
- Train Lighting/AC (E)
- Petty Repairs (R)
Unlike of earlier system, where each request was going to on board OBHS staff, who used to take care of only the cleaning service request, in the improved system, any request generated will directly go to on board "Escorting Staff". The "Escorting Staff" will have the responsibility to get each request attended by specific staffs allocated for the service type.
Passengers can make a Service request in the following ways in the improved Train Service Request:
1. From the Mobile:
a. REQ <Space> <

10 Digit PNR Number

> <Space> <

Request Code

> 
b. Send 

SMS 

to 

58888
2. Request from the Website (www.trainservicerequest.com)
a. Fill the request for with the following:
i. PNR Number
ii. Mobile Number
iii. Select Service Type from the dropdown.
iv. Enter the CAPTCHA
b. Then click the "Submit" button to make service request.
Mobile App:
For the ease of the passengers of Indian Railways, we have also developed a mobile app (Android app: https://play.google.com/store/apps/details?id=com.trainservicerequest)  which can be installed on Android devices. Using the app, passenger can make any train related service request, view the status of the request, if the request is not attended for a long time, can reopen the request and provide a feedback for a closed request based on the service provided to the passenger.
Clean Station Feature:
In addition, in the mobile app we have integrated the "Clean Station" feature, using which the passenger will be able click photo of in and around of the station and submit the request. These request with photos will be sent to specific Division (under which the station falls). They will ensure the cleanliness of the station.
So, Indian Railways is committed to providing best of services to passengers and we are committed to providing best of technology to make that job easier and quicker!